Cause
The sensor on the top of the device (underneath the round cover) won't scan or recognize the surrounding area properly. This could be caused by foreign objects on top of the robot, for example dirt on the opening in front of the sensor, or something similar.
Recommended action
Please ensure that the sensor has clear visibility in all directions.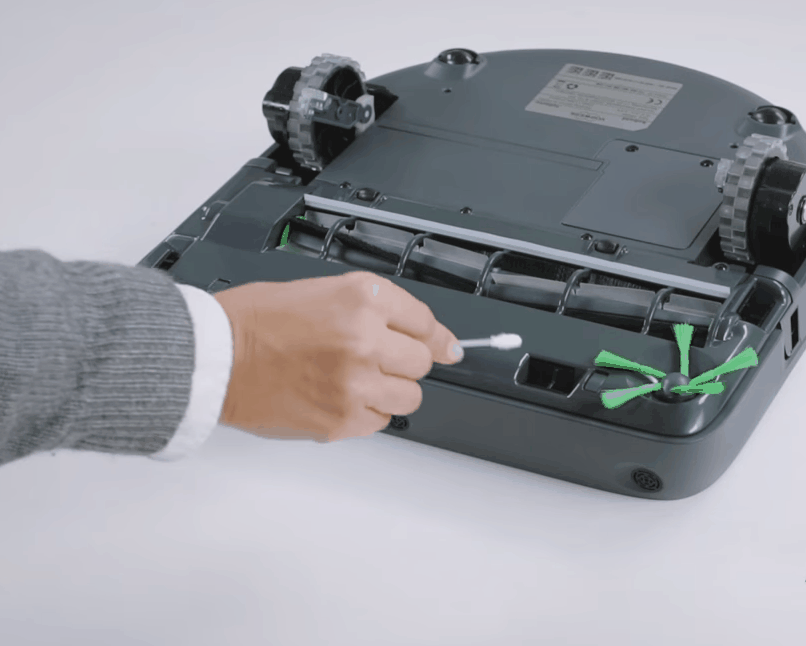 Where are the sensors on the VR300?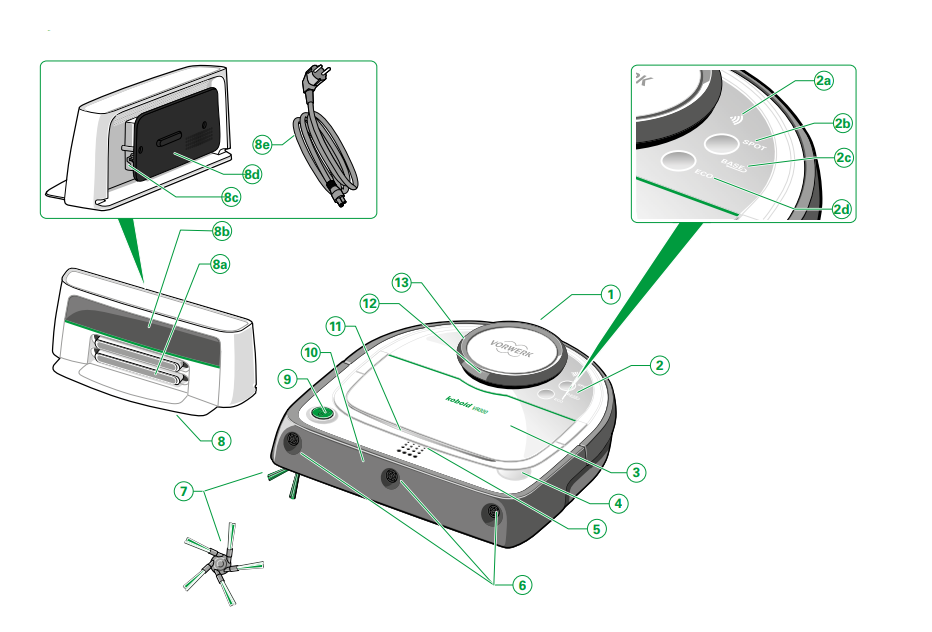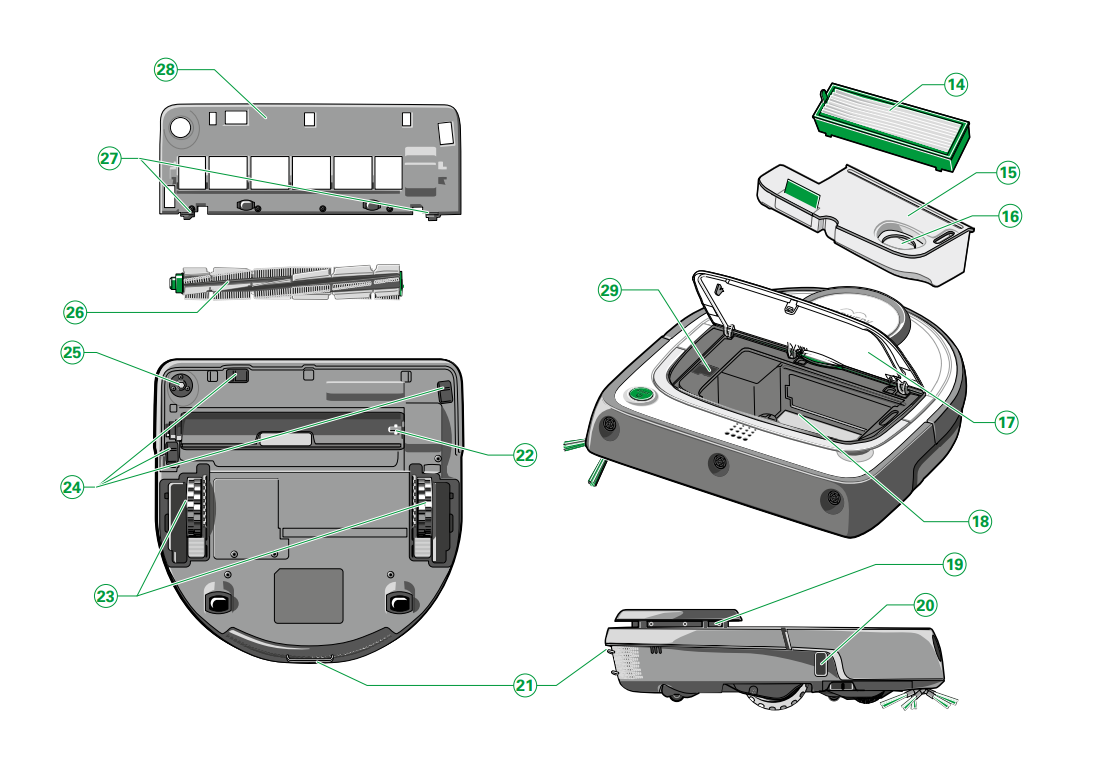 Item Kobold VR300 Robot Vacuum Cleaner and accessories
1 Robot Vacuum Cleaner
2 Operator panel with 2 function keys
2a 'Wi-Fi' LED function key
2b 'SPOT' LED indicator
2c 'BASE' LED indicator
2d 'ECO mode' LED indicator
3 Dust compartment / dust compartment cover
4 Release button for dust compartment cover
5 LED operating display
6 /3/ ultrasonic sensors
7 Side brush
8 Base station
8a Base station charging contacts
8b Infrared window
8c Charging socket
8d Cable holder (black)
8e Mains cable
9 Start button
10 Front bumper
11 Fold-down carrying handle
12 Laser scanner
13 Top bumper on laser navigation sensor (LDS)
14 Filter
15 Dust container
16 Suction opening
17 Dust compartment cover
18 Dust compartment
19 Laser scanner
20 Wall following sensor
21 Charging contacts
22 Roller brush holder
23 Wheels with climb assist
24 /3/ floor sensors
25 Side brush holder
26 Roller brush
27 Brush cover locking mechanism
28 Brush cover
29 Micro-USB connection (under the rubber plug)
Where are the sensors on the VR200?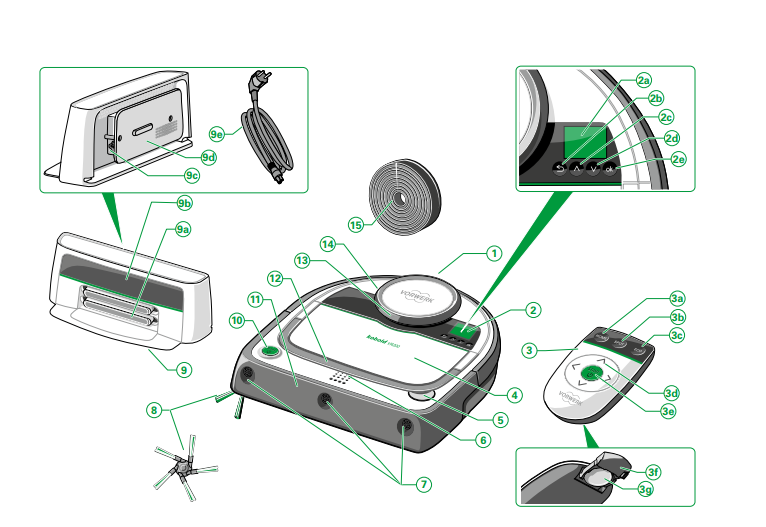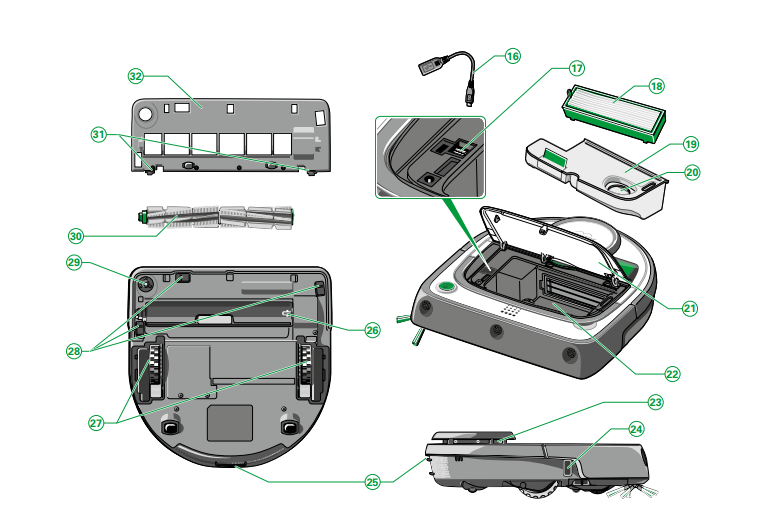 Item Kobold VR200 Robot Vacuum Cleaner and accessories
1 Robot Vacuum Cleaner
2 Operator panel
2a Display window
2b Back button
2c "Up" arrow / previous selection
2d "Down" arrow / next selection
2e Selection button (OK)
3 Remote control
3a HOME button (back to base station)
3b "Spot Cleaning" mode
3c ECO option
3d Direction buttons for remote control
3e Start/stop button (on/off)
3f Battery compartment (open)
3g CR2025 button cell
4 Dust compartment / dust compartment cover
5 relese button for dust compartment cover
6 LED operating display
7 /3/ ultrasonic sensors
8 Side brush
9 Base station
9a Base station charging contacts
9b Infrared window
9c Charging receptacle
9d Cable winding
9e Mains cable
10 Start/stop button
11 Bumper
12 Fold-down carrying handle
13 Laser scanner
14 Bumper on laser navigation sensor
15 Magnetic strips
16 USB adapter
17 Micro-USB connection (under the rubber plug)
18 Filter
19 Dust container
20 Suction opening
21 Dust compartment cover
22 Dust compartment
23 Laser scanner
24 Wall following sensor
25 Charging contacts
26 Round brush holder
27 Wheels with climbing assist
28 /3/ floor sensors
29 Side brush holder
30 Round brush
31 Brush cover locking mechanism
32 Brush cover