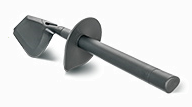 If you observe that your TM31 or TM5 spatula is crumbling or beginning to dissolve, you should replace it.
In general, the spatula consists of a material which is authorised for contact with food and is not harmful to health.
However, the plastic can become damaged when it spends too much time in contact with water.
You should not soak the spatula in water. You should dry it immediately after rinsing instead.
Please also protect the spatula from direct sunlight, as the material can be damaged by UV light.