Here you will find instructions on how to update via USB stick.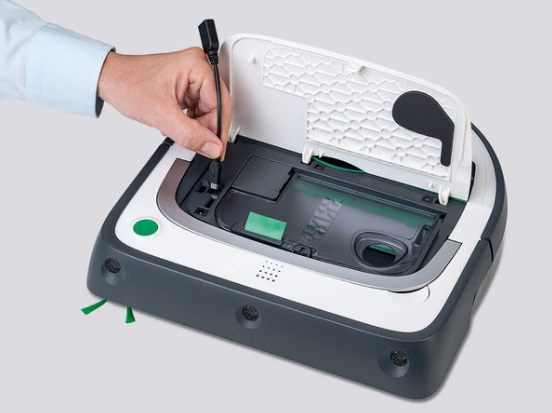 Prerequisites:
- your VR300 needs to be at the base station and charged enough so that it would allow the update process without interruptions (the best option is to have the robot fully charged)
- you need an USB stick
- you need a suitable cable to connect the USB stick to the VR300 (if you do not have one, you can order it from our online shop)
- you need the latest robot software
Steps to follow:
Your Kobold VR300 robot vacuum cleaner will be fully functional again in just a few minutes. The software update is very easy to install and doesn't require any technical expertise.
All you have to do is to follow our step-by-step instructions:
Make sure your Kobold VR300 is on its base station and is fully charged (led display

is

green)

Press and hold the green button until all lights have gone out.

Restart the robot by briefly pressing the green button.

Open the dust bin lid, you will see that the light-shower is blinking amber

Remove the rubber cover from the micro-USB port.

Connect the USB stick using the adaptor cable. The LED status display will now start to flash green after

a

few seconds.

Your robot vacuum cleaner will now install the update automatically. This may take up to 30 minutes. When you hear the audio signal

(only if you didn't switch this feature off)

the update is completed. After the update the robot automatically restarts. The LED display flashes amber, because the dust bin lid is still open. 

Remove the adaptor cable, place the rubber lid of the port and close the lid.

Now connect your robot vacuum cleaner using the app as usual and take advantage of all the functions again.
All done! Your robot vacuum cleaner is fully functional and will now be able to use all functions again. We trust you will continue to enjoy using your Kobold VR300. If you have any questions about the software update, please contact our technical support team.
Additional information:
- The stored floor plans, your preferences for reminders, your robot's name and the Wi-Fi connection data will remain saved after the update.
- If the update fails, please try another USB stick, as there might be USB stick compatibility issues.
- The robot will automatically create a folder in the USB stick containing the log file. This is normal. If you wish, you can delete it afterwards.