Where can I find the different modes on my TM6?
Simply swipe left on the home screen to see the modes screen, where you select the desired mode.
Want to know more about modes?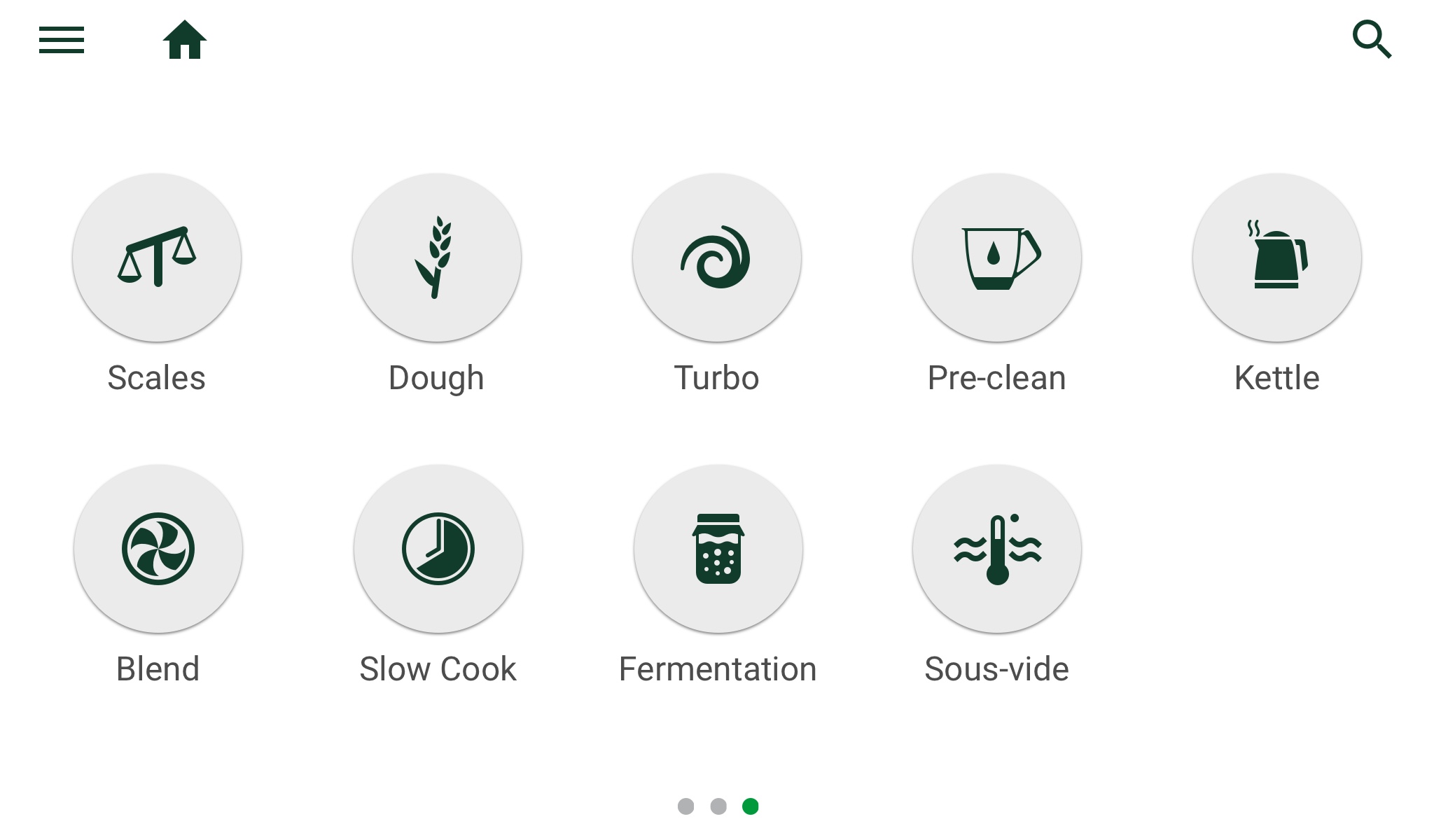 Always developing modes solutions
We are always working on developing new solutions and make the Thermomix® TM6 even more functional for you. That is why your Thermomix® TM6 can receive our new modes automatically, adding even more functionalities to your favorite kitchen appliance. To get the new modes you only need to connect your Thermomix® TM6 to Cookidoo®, and the modes will then be installed on your Thermomix TM6. You do not even need an active subscription in order to receive the modes.
To achieve the best cooking results with the modes, we also recommend that you keep your Thermomix® up to date with the latest firmware version.
More information over the latest Thermomix® TM6 firmware updates can be found here.
Overview of the TM6 modes
| | |
| --- | --- |
| Mode | Description |
| | Warm up mode: Heats and reheats sauces, soups and further liquids efficiently without breaking chunks of food within. Food to be warmed must be liquid or creamy,The butterfly whisk is not mandatory, but it is highly recommended for quantities over 250 g. |
| | Thickening mode: In this mode you can thicken sauces such as vanilla pudding, béchamel and other sauces with eggs, egg yolk, flour and cornflour. Milk, cream or baby food may be warmed without burning. |
| | Rice cooking mode: The rice cooking mode allows you to cook many types of rice or bulgur, up to 500 g at the touch of a button. |
| | Egg boiler mode: Boil between 2 and 6 size M Eggs in your Thermomix® TM6. Insert the edds in the mixing bowl and add water up to the 1 Liter mark on the mixing bowl. Select one of the five cooking points: soft, medium soft, medium, medium hard and hard |
| | Fermentation: This mode can be used to ferment yoghurt or prove a yeast dough in a warm environment. |
| | Sous-vide: Method for tender meat, fish and vegetables. |
| | Slow Cook: A gentle method for cooking dishes that take a bit longer. |
| | Blend: Get great results with purées, soups and smoothies in this mode. |
| | Scale: Weighs in 1 g intervals. |
| | Dough: Prepare all types of dough quickly and easily. You will achieve great consistency and professional smoothness – no lumps guaranteed! |
| | Turbo: Chop like a pro with high speeds of up to 10,700 rotations per minute. |
| | Improved Pre-clean: now you may select one of the four different variations of cleaning depending on the soiling of the Bowl (Dough, Universal, Fat & Caramel and Browning) making the cleaning results more efficient. |
| | Kettle: Heat water to 37–100°C for making tea, preparing baby bottles or cooking pasta. |