Cooking with the Thermomix® is easier than ever before, thanks to the Guided Cooking function. Ever wished you had a personal assistant in the kitchen? Well, now you do. Simply select a recipe and follow the step-by-step instructions on the display, with predefined times, temperatures and speeds for each step. Preparing delicious food at home has never been this easy!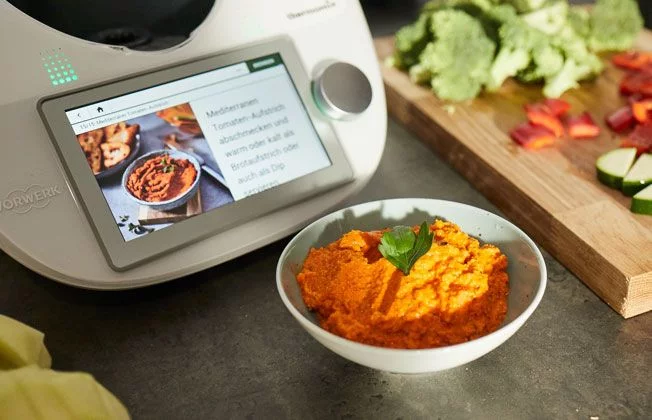 As to be able to use the guided cooking you must have the recipe in digital form on your Thermomix TM5 over recipe chips or Cookidoo® through the Cook-kay®, or on the TM6 over Cookidoo®.
The Thermomix® knows when to add which ingredient to the bowl. When you complete a step, simply press 'Next' for the next instructions. So, even if you're an inexperienced chef, you can challenge yourself to prepare something daring. When it's time to weigh an ingredient, the scales switch on automatically. The Thermomix® will even tell you what temperature to cook at and how long to stir your food. So what are you waiting for? Let the Guided Cooking function be your digital assistant!
All recipes in the Thermomix® recipe portal Cookidoo® have the Guided Cooking function.