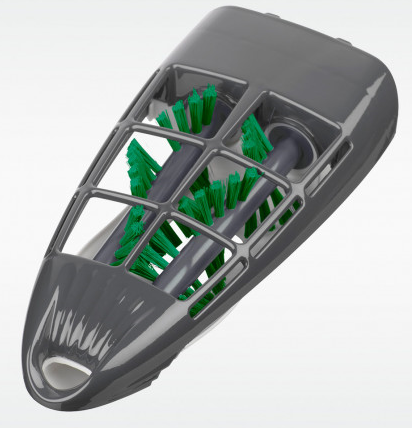 We recommend that you use a new PB440/430 replacement shoe if you notice excess wear.
If you are unsure how to remove the brushes or cannot decide whether the part needs to be replaced, please contact your adviser or Customer Service.
To check the brushes thoroughly, please remove them as follows:
Press the release button, then grip using the grooves and pull the electric upholstery brush off the electric suction hose.
After that, remove the suction shoe by pulling downwards.
Brush or wipe the device with a dry cloth.
From time to time, check the suction shoe to see if any threads or hairs are wound around the round brushes.
If so, remove the suction shoe.
Cut the threads or hairs with clean scissors.
When replacing the suction shoe, first insert the lugs on the shoe into the openings provided.
Hold the suction shoe using the grooves and push it firmly onto the device. Make sure that you hear the suction shoe snapping properly into place.