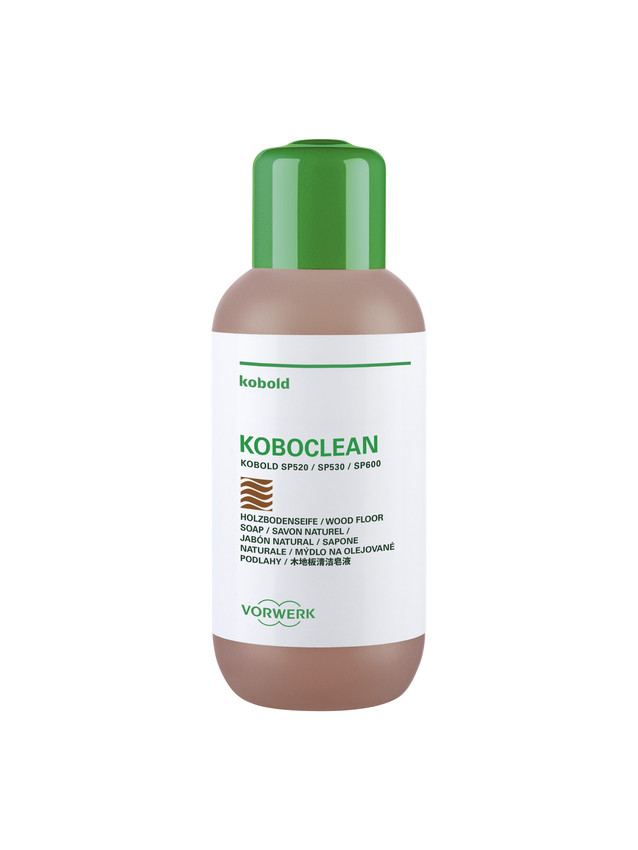 Oiled wooden floors maintenance is now easier than ever.
Koboclean Wood Floor Soap is designed to clean and protect oil, wax and soap finished surfaces from dirt, stains and wear and tear. Dirt and old soap layers are removed with every wipe and replaced with a new protective soap layer. When used on a regular basis, the soap makes this type of wood floor more dirt- and wear-resistant and easier to keep clean.
Koboclean Wood Floor Soap contains coconut and soya fats that nourish and protect the wood. Like a moisturizing cleaner, Koboclean Wood Floor Soap helps to remove the dirt while creating a new breathable soap film on the wood surface.
Koboclean Wood Floor Soap needs to be applied with MF520/530/600 Parquet. Follow these instructions:
1. Add the Wood Floor Soap to the SP600 water tank (or SP530 dosage bottle) according to the specified dose.
2. Attach a MF520/530/600 Parquet to the SP hard floor cleaner
3. Clean the wooden floor with the Kobold SP600 (or SP520/530) and let the floor dry.
4. Rinse the tank after use.
5. Wash cloths after use, do not reuse unwashed cloths.
Attention
Excessive dosage of soap
The content in our Koboclean Wood Floor Soap has been carefully composed to achieve an optimal quality. It's very important to dilute the soap with water as recommended on the label.
In case of excessive dosage footprints might appear on the floor. If so, clean the floor with pure, lukewarm water (without soap) and the footprints will disappear.
If the SP600 is used ONLY with Koboclean Wood Floor Soap, the water-tank and hose system need to be rinsed out frequently as residues might cause streaks/marks on the floor.
This shouldn't occur if the SP600 is used alternating with pure water or Koboclean Universal/Parquet.