With its direct integration into Thermomix® TM6, Cookidoo® supports personalised nutrition planning and the Guided Cooking function that makes the food preparation even more enjoyable by guiding you step by step through the recipes and all that directly on the great 6.8-inch display. The cooking platform Cookidoo® offers a great experience on your Smartphone over the Cookidoo® app, on your computer over the web and your Thermomix. Furthermore, all those platforms are in sync with all your devices and offer you convenience and flexibility.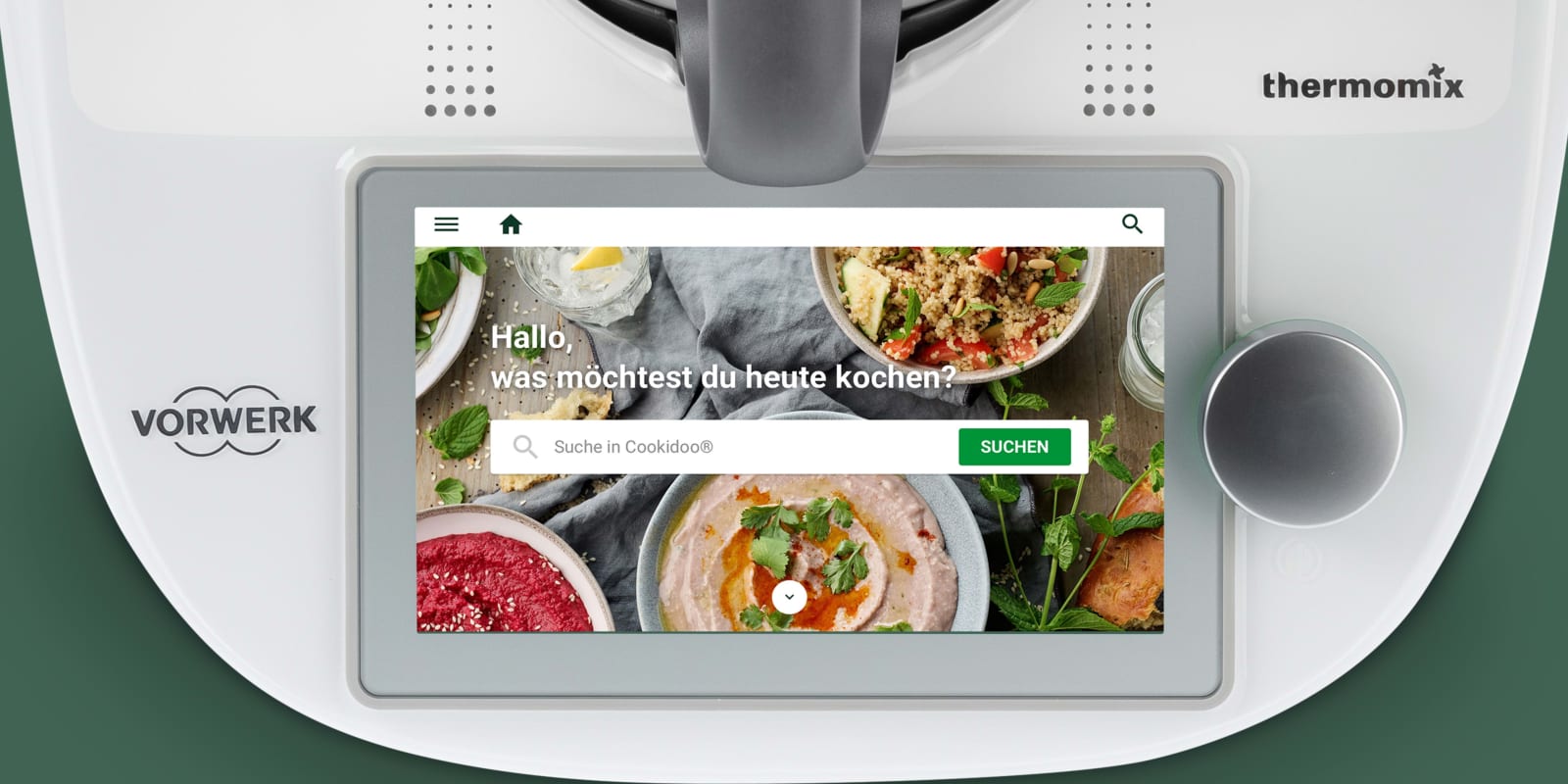 New to Cookidoo® world or don´t have an account yet?
Then it's high time we get started!
Cookidoo® is Vorwerk's official digital portal with a database of recipes that is constantly growing. The portal works with the Thermomix® TM5 and TM6 and allows you to use the Guided Cooking function on the device.
If you already have an account for the TM5, you do not need to create a new one for Cookidoo®. All the features (recipe lists, bookmarks, subscriptions, etc.) will still be valid. Once your device is connected to Cookidoo®, you will receive a 6 month free trial subscription that you can view in your account.
How to create a Cookidoo account:
Go to your local Cookidoo website and click on the 'Sign up' button. Enter an email address (make sure you have access to this inbox) and create a password for your account. It is not possible to use your existing credentials from other Vorwerk websites for Cookidoo®. For the best user experience, we suggest using an alternative browser to Internet Explorer.
Please note: you must create your account through the Cookidoo® website or the mobile app. It cannot be created through the TM6 itself.
Important:
Please ensure you have a Cookidoo® account before one of our advisors visits you to instruct you on how to use your TM6 device. If another person logs in with their credentials on your TM6 first, they will receive the 6month free trial instead of you.
Good to Know: Once you are a member of the Cookidoo® family, you can connect up to 5 different devices (TM5 with Cook-Key® or TM6) to one Cookidoo® account.
New to Thermomix® and the TM6?
No worries, getting started is easy. Simply plug in the TM6, switch it on and follow the instructions on the display. You can add and edit information in the settings afterwards. Please note: your Thermomix® may display a software update prompt the first time you switch it on. If it does not, go to "Settings", select "Thermomix® version & update" and search for the latest software version. If an update is available, download and install it. Once the update is completed, the Thermomix® may perform a reboot. This can take more than 30 minutes. So, don't worry too much… just have a little patience.
Quick facts: All you need to use your TM6 online!
Thermomix® TM6 with the appropriate firmware
Cookidoo® account to activate the TM6
WLAN router that meets the following technical requirements:
Wi-Fi 802.11 b / g / n
2.4 GHz or 5 GHz frequency bandwidth
WEP, WPA or WPA2 encryption (not WPA2 Enterprise)
Access to ports 80 and 443 on the router
An internet connection to transfer data (download speed of at least 128 kbit/s, 1 mbit/s for best performance)
We recommend a secure WLAN network, but also supportWLAN networks without a passwordunprotected WLAN without password
How do I connect the TM6 to Cookidoo®
On your TM6, simply go to 'Settings' and find your Cookidoo® profile, then log in with your Cookidoo® credentials on the Thermomix®.
The TM6 will automatically synchronise with your Cookidoo® account.
When you first connect your Thermomix® TM6 with your Cookidoo® account, please, allow your device plenty of time to synchronise the data. Large amounts of recipes can take up to 15-20 minutes.
You can't add your TM6 to your Cookidoo® profile online or via the app.
Can I connect several Cookidoo® accounts to the TM6?
Only one Cookidoo® account can be linked to a TM6 at any one time.
To switch between Cookidoo® accounts on your TM6, first log out and disconnect the TM6 from your Cookidoo® profile.
All the bookmarks and recipe lists from your profile will be deleted from the device.
You can then log in with another profile.
Whenever you wish to switch accounts, you have to log out of the active account and delete it from the TM6. You can then log in with a different account.
The TM6 will immediately synchronise and your lists and favourites will be back.
Connectivity useful tips.
Cookidoo® won't connect even though you have a strong WLAN connection?
Don't worry. There are several ways to resolve this.
Step 1: spell check.
Check that you are using the right login credentials for your Cookidoo® account and make sure you haven't misspelled the password (enable "Show password" when typing).
Step 2: different country?
Check your settings and make sure the country selected on your TM6 is the same as in your Cookidoo® account.
Step 3: Check your signal.
Your home WLAN might not be strong enough or you may not be connected to the internet. Try bringing the TM6 closer to your router or connect your TM6 via a hotspot, (e.g. a smartphone) to see if the problem persists. In some cases, you may need to install a WLAN repeater in your kitchen to ensure a stable signal.
Tried to log in to your device, but the login button is grayed out?
This may occur if you installed a new TM6 software version. In this case, you will need to perform a factory reset. Go to "Settings" and click on "Factory reset". The device will reboot. Once it is ready, you will need to follow the instructions again and connect your device via WLAN.
Want to disconnect your Cookidoo® account from your TM6?
There are two ways to disconnect your device from your account. You can log out and disconnect your TM6 from your Cookidoo® account via the device itself. Alternatively, you can log in to your Cookidoo® account on the Cookidoo® website and deactivate your TM6 in the "My devices" section. Once this is done, you can connect any other Cookidoo® account to your TM6. Make sure your TM6 is connected to Cookidoo®.