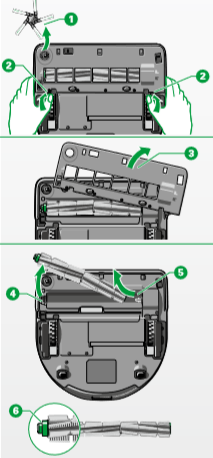 Clean the round brush if threads or hairs are wound around it.

REMOVE THE ROUND BRUSH
Turn the robot vacuum cleaner upside down.
Remove the side brush (1)
Using both hands, press the latches (2) on both sides of the brush cover forwards at the same time to release them.
Remove the brush cover (3).
Lift the left end of the round brush out of the robot vacuum cleaner first (4) and then pull the red end off the axle (5) to remove the round brush.
CLEAN THE ROUND BRUSH
Remove any fluff, hair or other dirt from the round brush.
Make sure that the green bearing (6) and the metal cup and ball bearing located on the left end of the round brush do not come loose.