The best way to update your Kobold vacuum cleaner robot is by using the Kobold Robot app.
In case this is not possible for you, we have another solution: updating the software by means of an USB stick and downloading the update from the Vorwerk site.
Here are the guidelines for this second option.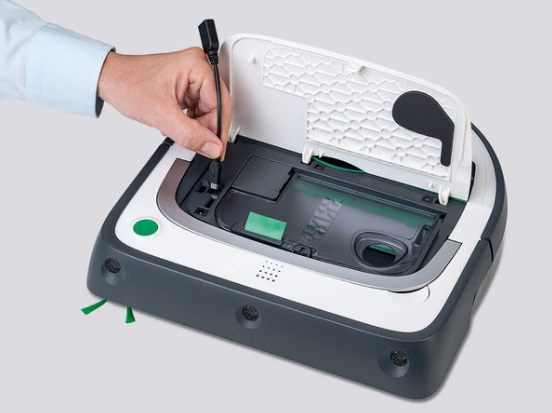 Prerequisites:
- your VR300 needs to be at the base station and charged enough so that it would allow the update process without interruptions (the best option is to have the robot fully charged)
- you need an USB stick
- you need a suitable cable to connect the USB stick to the VR300 (if you do not have one, you can order it from Vorwerk at
PLACEHOLDER link to online shop
- you need the latest robot software
Steps to follow:
1. Download the software from Vorwerk web page
onto your computer.
2. Make sure there is only one folder on the USB stick and that its name is "RobotData". Then transfer the software update to the USB stick.
3. Open the dust-bin lid and connect the USB stick to the robot using the connection cable.
4. The red flashing LED operating display will start to blink green.
5. Wait until the audio signal sounds and the LED has turned back to red blinking (this can take around 10 minutes).
6. Unplug the USB stick and close the dust-bin lid.
Additional information:
- The stored floor plans, your preferences for reminders, your robot's name and the Wi-Fi connection data will remain saved after the update.
- If the update fails, please try another USB stick, as there might be USB stick compatibility issues.
- The robot will automatically create a folder in the USB stick containing the log file. This is normal. If you wish, you can delete it afterwards.
TIP: Please notice that the updates may take up to 20 Min.